Next GTDA Monthly Dance: April 19, 2019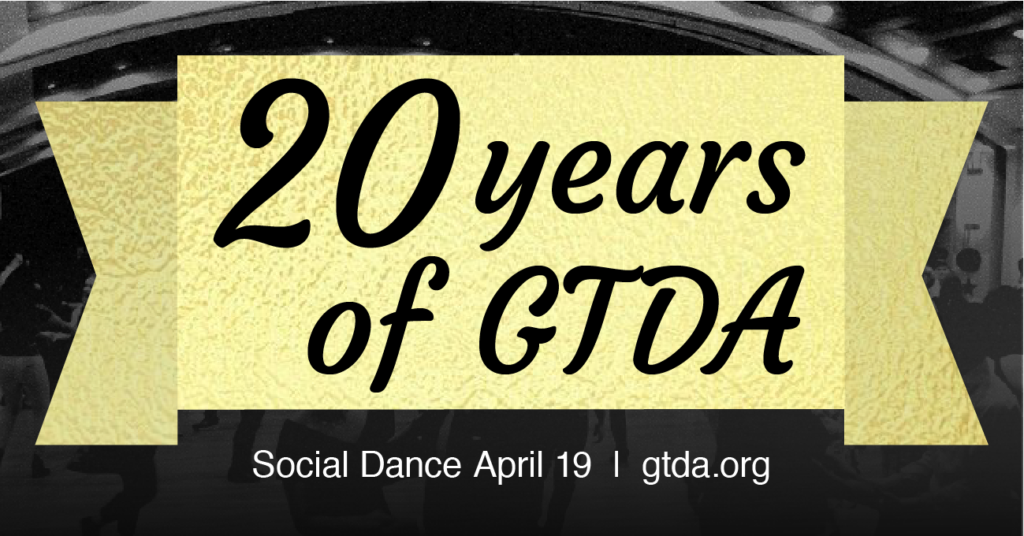 Dance Details
Student Center, 3rd Floor Ballroom
350 Ferst Dr, Atlanta, GA 30332
Admission: All ages are welcome. Accepting cash, credit, and debit. Students, Military, GT faculty, ADJPS $5 with ID. General admission $10.
Dress: Comfortable clothing and shoes. Typical Friday night attire. Please wear shorts underneath skirts and dresses.
Amenities: Water fountains and restrooms are available. Vending machines are downstairs.
Free Lesson: Our beginner lesson is at 8pm and our intermediate dance practice is at 8:30. Please be timely!
Upcoming Dances
| Date | Band / DJ | More Information |
| --- | --- | --- |
| Friday, April 19, 2019 | DJ Alan White | GTDA is turning 20, so whether you're new to swing dance or you've been dancing for years, come celebrate with us! [Facebook Event] |
| Friday, May 24, 2019 | DJ TBA | |
| Friday, June 29, 2019 | DJ TBA | |
| Friday, July 19, 2019 | DJ TBA | |
| Friday, August 30, 2019 | Band TBA | |
| Friday, September 20, 2019 | DJ TBA | |
| Friday, November 22, 2019 | DJ TBA | |
| Friday, December 6, 2019 | DJ TBA | |
| Friday, January 17, 2020 | DJ TBA | |
Past Dances
Date
Band / DJ
More Information
Friday, March 8, 2019
Live Band: The Georgians
We're opening up the ballroom for another night of swing dance and live music! Hope to see you at GTDA's next monthly event. [Facebook Event]
Friday, February 15, 2019
Peachtree Jazz Edition
Go back a century for one night and swing dance with us! We're having big band Peachtree Jazz Edition over to celebrate the sounds and sights of the 1920s. This dance features a costume contest, a Charleston competition, a photo booth, and prizes.
[Facebook Event]
Friday, January 18, 2019
Gwen Hughes and the Retro Jazz Kats
This January, warm up at our next swing dance! We're looking forward to live music by the talented Gwen Hughes and the Kats. See you soon!
[Facebook Event]
Friday, December 7, 2018
DJ Jim Wheatley's Vinyl Experience
Get hip to vinyl with DJ Jim Wheatley! We'll show you how to dance swing. 50s, blues, jazz, and Motown music included.
[Facebook Event]
Friday, November 16, 2018
Tongue in Cheek Jazz Band
Get up and swing dance before the holidays begin! We're welcoming Tongue in Cheek Jazz Band from Baltimore and can't wait to hear them live. Join us for our free beginner lesson at 8pm or our intermediate practice at 8:30pm.
[Facebook Event]
Friday, October 5, 2018
Band TBA
It's the GTDA Halloween swing dance!
Wear a costume* if you have one and get your picture taken at the photo booth. Join us for our free beginner lesson at 8pm or our intermediate practice at 8:30pm.
[Facebook Event]
Friday, September 21, 2018
Harlequin Jazz Band
Get ready for the last swing dance of the summer… The Harlequin Jazz Band will be here to provide live, entertaining music! Also, please join us for our free beginner lesson at 8pm or our intermediate practice at 8:30pm.
[Facebook Event]
Friday, August 31, 2018
Capital City Xpress
Swing dance with us! We're hosting our first monthly dance in the Student Center Ballroom on August 31, so take our free dance lessons at 8 and 8:30 pm and stay for the social dance! Featuring live jazz & swing music by Capitol City Xpress at 9 pm.
[Facebook Event]
Friday, July 20, 2018
DJ Jim Wheatley's Vinyl Experience
Back for the 9th year!
Instructors Matt Habib and Kate Bennett
[Facebook Event]
Saturday, June 23, 2018
DJ Alan White
Instructors: Jesse Gearhart and Maggie O'Bryant
[Facebook Event]
Friday, June 1, 2018
Taryn Newborne and the Real Deal
In conjunction with ATLX 2018
DJing the band breaks: Jesse Gearhart
Instructors: Kishore Devisetti and Mandy Eidson
[Facebook Event]
Friday, April 20, 2018
DJ Malon Fripp
This will be our normal April GTDA dance.
Instructors: Grant Nunn and Kate Bennett
[Facebook Event]
Friday, March 9, 2018
Capital City Xpress
DJing the band breaks: Kati Arikoski-Johnson
Instructors: Kati Arikoski-Johnson and Kyle Dennis
[Facebook Event]
Friday, February 23, 2018
Harlequin Jazz Band
DJing the band breaks: Evin Galang
Instructors: Evin Galang and Jesse Gearhart
[Facebook Event]
Friday, January 19, 2018
Peachtree Jazz Edition
Masquerade-themed dance: masks are desired but not required.
DJing the band breaks: Robert Barbier
Instructors: Robert Barbier and Rachel Pitner
[Facebook Event]
Friday, December 1, 2017
DJ Jim Wheatley
Instructors: Matt Habib and Kate Bennett
[Facebook Event]
Friday, November 17, 2017
The Hot Club of Atlanta
DJing the band breaks: Kyle Dennis
Instructors: Emily Nybo and Benjy Thomas
[Facebook Event]
Friday, October 20, 2017
Moonshine Rhythm Club
Halloween costumes encouraged!
DJing the band breaks: Jesse Gearhart
Instructors: Kyle Dennis and Rachel Pitner
[Facebook Event]
Saturday, September 9, 2017
Keith Jones and the Makeshifts
DJing the band breaks: Robert Barbier
Instructors: Kenny Livingston and Kerry Frost
[Facebook Event]
Friday, July 14, 2017
DJ Jim Wheatley's Vinyl Experience
Back for the 8th year!
Instructors: Matt Habib and Kate Bennett
[Facebook Event]
Friday, June 2, 2017
Taryn Newborne and the Real Deal
In conjunction with ATLX 2017
DJing the band breaks: Kyle Dennis
Instructors: Emily Nybo and GTDA's President Sebastian Valencia
[Facebook Event]
Friday, April 21, 2017
Bonaventure Quartet
DJing the band breaks: Kevin Kim
Instructors: Kyle Dennis and Savannah Colbert
[Facebook Event]
Friday, March 10, 2017
Sentimental Journey Orchestra
DJing the band breaks: Elisa Murray
Instructors: Aaron Tallman and Savannah Colbert
[Facebook Event]
Friday, February 17, 2017
Harlequin Jazz Band
DJing the band breaks: Robert Barbier
Instructors: Robert Barbier and Rachel Pitner
[Facebook Event]
Friday, January 20, 2017
Taryn Newborne and the Real Deal
DJing the band breaks: Jesse Gearhart
Instructors: Brian Wong and Kate Bennett
[Facebook Event]
Friday, December 2, 2016
Swing & Blues in two separate rooms:
Swing DJ: Jim Wheatley
Blues DJ: Emily Nybo
The Ballroom will be divided:
Swing will be on the larger side (right)
Swing Instructors: Matt Habib and Alesa Stallman
Blues will be on the smaller side (left)
Blues Instructors: Amanda Schoeck and Anna Gosselin
Friday, November 18, 2016
Capital City Xpress
DJing the band breaks: Elizabeth Glavin
Instructors: Nima Farsinejad and Rachel Pitner
Friday, October 28, 2016
Michael Gamble & the Carolina Footwarmers
In conjunction with AVS
DJing the band breaks: Eddie Rutland
Instructors: Robert Barbier and Emily Cook
Friday, September 16, 2016
20th Anniversary of Swing in Atlanta
Gwen Hughes and the Retro Jazz Kats
DJing the band breaks: Alan White
Instructors: Kenny Livingston and Kerry Frost
[Facebook Event]
Friday, September 2, 2016
Keith Jones and the Makeshifts
DJing the band breaks: Patrick Manigault
Instructors: Matt Habib and Kate Bennett
[Facebook Event]
Saturday, July 30, 2016
DJ Jim Wheatley's Vinyl Experience
Back for the 7th year!
Instructors: Kishore Devisetti and Kate Bennett
[Facebook Event]
Thursday, June 23, 2016
DJ Alan White
Instructors: Jesse Gearhart and Candy Gearhart
[Facebook Event]
Friday, May 27, 2016
DJ Malon "Oatmeal" Fripp
Instructors: Robert Barbier and Rachel Pitner
[Facebook Event]
Friday, April 22, 2016
Still Swinging – The Les Still Big Band
DJing the band breaks: Russ Ruddell
Instructors: Russ Ruddell and Hilary Buuck
[Facebook Event]
Friday, Mar 4, 2016
Gwen Hughes and the Retro Jazz Kats
DJing the band breaks: Robert Barbier
Instructors: Robert Barbier and Nicole Baran
[Facebook Event]
Friday, February 19, 2016
One Leg Up
DJing the band breaks: Jim Wheatley
Instructors: Matthew Habib and Kate Bennett
[Facebook Event]
Friday, January 22, 2016
Cancelled Peachtree Jazz Edition
CANCELLED due to the Inclement Weather
DJing the band breaks: Robert Barbier
Instructors: Robert Barbier and Hilary Buuck
[Facebook Event]
Friday, December 04, 2015
Keith Jones and the Makeshifts
DJing the band breaks: Russ Ruddell
Instructors: Russ Ruddell and Hilary Buuck
[Rock-n-roll Holiday Spectacular]
Friday, November 20, 2015
Sentimental Journey Orchestra
DJing the band breaks: Lauren Jordal
Instructors: Kishore Devisetti and Kate Bennett
[Facebook Event]
Friday, October 30, 2015
The Gamblers
In conjunction with AVS
DJing the band breaks: Lindsay Kelly
Instructors: Jesse and Candy Gearhart
[Facebook Event] Costume Contest
Friday, September 18, 2015
Savoy Kings
DJing the band breaks: Emily Nybo
Instructors: Matt Johnson and Mara Santiago
[Facebook Event]
Friday, August 28, 2015
Big Band Atlanta
DJing the band breaks: Jesse Gearhart
Instructors: Kenny Livingston and Kerry Frost
[Facebook Event]
Friday, July 31, 2015
DJ Jim Wheatley's Vinyl Experience
Back for the 6th year!
Instructors: Clinton Collier and Mindi Sheer
[Facebook Event]
Friday, June 19, 2015
DJs Moose and Nima Farsinejad
Instructors: Nima Farsinejad and Mara Santiago
[Facebook Event]
Friday, May 29, 2015
DJ Patrick Manigault
Instructors: Patrick Manigualt and Kate Bennett
[Facebook Event]
Friday, April 17, 2015
Cancelled
Due to venue availability, we will not be able to offer a dance this month.
Friday, March 13, 2015
Capitol City Xpress
This dance will be St. Patrick's Day themed so be sure to wear green!
[Facebook Event]
Friday, February 20, 2015
The Savoy Kings
[Facebook Event]
Friday, January 16, 2015
Gwen Hughes and the Retro Jazz Kats
[Facebook Event]
Friday, December 5, 2014
Taryn Newborne and the Real Deal
[Facebook Event]
Friday, November 21, 2014
Night Train
[Facebook Event]
Sponsored by AppedOn (appedon.com)
Friday, October 31, 2014
Snorky's Rhythm Kings
Part of Atlanta Varsity Showdown!
[Facebook Event]
Friday, September 12, 2014
One Leg Up
[Facebook Event]
Friday, August 22, 2014
Peachtree Jazz Edition
[Facebook Event]
Friday, July 18, 2014
DJ Jim Wheatley
Vinyl Experience [Facebook Event]
Friday, June 20, 2014
DJ Kristen Hardin
We will be celebrating our first dance on the new ballroom floor! You won't want to miss it! [Facebook Event]
Friday, April 18, 2014
Night Train Swing Band
[Facebook Event]
Friday, May 16, 2014
Band TBA
We will be taking a break for the month of May while the Student Center installs a new, hardwood ballroom floor!
Friday, March 14, 2014
Gwen Hughes & the Retro Jazz Kats
[Facebook Event]
Friday, February 14, 2014
Shawn Hershey and Friends
Valentine's Swing and Blues Dance[Facebook Event] Co-sponsored with Enter the Blues
Friday, January 17, 2014
Capitol City Xpress
[Facebook Event]
Friday, November 15, 2013
Big Band Atlanta
[Facebook Event]
Friday, December 6, 2013
Taryn and the Wednesday Quintet
Friday, October 25, 2013
Perseverance Jazz Band
Halloween Dance!! Also, part of the Atlanta Varsity Showdown!
Friday, September 20, 2013
One Leg Up
Friday, August 23, 2013
The Sentimental Journey Orchestra
Friday, July 19, 2013
DJ Jim Wheatley
Vinyl Experience (back for the fourth year)!
Friday, June 21, 2013
Taryn and the Marcus Lewis Orchestra
Friday, May 17, 2013
DJ Kristen Hardin
Friday, April 19, 2013
The Hop Shop Hot Five
Opening Dance for Hop Shop Weekend!! [Facebook Event]
Friday, March 15, 2013
Gwen Hughes and the Retro Jazz Cats
Friday, February 15, 2013
Taryn and the Wednesday Quintet
[Facebook Event]
Friday, January 18, 2013
Capitol City Xpress
[Facebook Event]
Friday, December 7, 2012
Night Train Swing Band
Friday, November 16, 2012
Metro Jazz Club
Friday, October 26, 2012
Sly Blue
Friday, September 21, 2012
One Leg Up
Double Header! A part of the Jubilee Jazz Revival!
Friday, August 24, 2012
The Savoy Kings
Back to School Dance! A part of the Sweet Georgia Blues weekend event!
Friday, July 20, 2012
DJ Jim Wheatley
Vinyl Experience! For the Third Year in a ROW!
Friday, June 15, 2012
DJ Kristen Michelle Brent
Friday, May 18, 2012
BAND – The Usual Suspects
Hollywood Glitz & Glam [Facebook Event]
Saturday, April 21, 2012
Free Association
Contra Dance! [Facebook Event]
Friday, April 20, 2012
Solomon Douglas Sextet
Friday, March 16, 2012
Capitol City Xpress
Friday, February 10, 2012
One Leg Up
Friday, January 13, 2012
Continental Dance Orchestra
Masquerade Dance [Facebook Event]
Saturday, December 3, 2011
Taryn and the Wednesday Quartet
Saturday, November 19, 2011
Sentimental Journey Orchestra
WW2 Themed Dance Special $2 Admission Price for Veterans [Facebook Event]
Friday, October 28, 2011
The Savoy Kings
Halloween Dance
Friday, September 16, 2011
Michael Gamble & His Rhythm Serenaders
Part of a weekend long dance & showcase event. The prices have changed for this dance. [Facebook Event]
Saturday, September 10, 2011
Free Association
Contra Dance! [Facebook Event]
Friday, August 26, 2011
Victory Jazz Orchestra
[Facebook Event]
Friday, July 22, 2011
DJ Jim Wheatley
Vinyl Experience!
Friday, June 17, 2011
DJ Mike "Moose" Cobb
Friday, May 20, 2011
DJs Patrick Manigault & Alan Annicella
East Coast/West Coast Dance
Friday, April 22, 2011
The Atlanta Seventeen
Friday, March 18, 2011
Retro Jazz Kats
Also featuring High Society Meet Up
Saturday, February 12, 2011
Free Association
Contra Dance
Friday, February 11, 2011
The Usual Suspects
Tuesday, February 1, 2011
West Coast Teaser
More Information
Friday, January 14, 2011
Peachtree Jazz Edition
Friday, December 10, 2010
Big Band Atlanta
Sunday, November 21, 2010
Soul Dance Workshop & Dance with DJ Jim Wheatley
GTDA Workshop
Friday, November 12, 2010
Sentimental Journey Orchestra
Friday, October 29, 2010
The Gravediggers
Halloween-Themed Dance
Saturday, September 18, 2010
6 Count East Coast & Charleston Workshop
GTDA Workshop
Friday, September 17, 2010
One Leg Up
Friday, August 20, 2010
Capitol City Xpress
Friday, July 16, 2010
DJ Jim Wheatley
Friday, June 18, 2010
DJ Patrick Manigault
Friday, May 14, 2010
DJ David Rothenberg
Friday, April 23, 2010
Metro Jazz Club
Friday, March 12, 2010
Peachtree Jazz Edition
Friday, January 15, 2010
The Usual Suspects
Friday, December 11, 2009
DJ David Rothenberg
Friday, October 30, 2009
The Sentimental Journey Orchestra
Halloween-Themed Dance
Friday, September 25, 2009
Solomon Douglas Swingtet
Friday, August 21, 2009
TBA
GTDA presents the Southern Belle Swing Bash
Friday, July 10, 2009
DJ Patrick
Friday, June 19, 2009
DJ Jim
Friday, May 15, 2009
Peachtree Jazz Edition
Special 10 Year Anniversary
Friday, April 24, 2009
Etowah Jazz Society
Saturday, April 4, 2009
Kingsized
GTDA presents ATLX 6. GT Students: $5. All others: $25. Visit www.atlx.org for more information.
Friday, March 13, 2009
Capitol City Xpress
Friday, January 16, 2009
The Usual Suspects
Friday, December 5, 2008
Big Band Atlanta
Saturday, November 22, 2008
Sentimental Journey Orchestra
Saturday, October 18, 2008
Peachtree Jazz Edition
Friday, September 19, 2008
Solomon Douglas Swingtet
Friday, August 29, 2008
Ol' Spin Daddy Alan White
Friday, July 25, 2008
DJ Patrick
Friday, June 27, 2008
TBA
Friday, May 16, 2008
DJ David
DJed Dance
Friday, April 25, 2008
TBA
Friday, March 28, 2008
TBA
Friday, February 22, 2008
TBA
Friday, January 18, 2008
TBA
Friday, December 14, 2007
TBA
Friday, December 7, 2007
TBA
GTDA presents Swing and Soul
Friday, November 16, 2007
Capitol City XPress
Thanksgiving Dance
Saturday, October 27, 2007
Big Band Atlanta
Halloween-Themed Dance
Friday, September 21, 2007
Still Swinging
Friday, September 14, 2007
Bonaventure Quartet and Hotlanta Dixieland Jazz Band
GTDA is proud to present the Southern Belle Swing Bash 2007 Please note that the Friday night dance is $15 for everyone.
Friday, August 24, 2007
Peachtree Jazz Edition
Friday, July 20, 2007
DJ: David
Friday, June 15, 2007
DJ: Malon/Jim
Friday, May 18, 2007
DJ: Alan White
Saturday, April 21, 2007
TBA
Saturday, March 31, 2007
Bon Aventure
March 30th Dance has been CANCELLED
Friday, February 9, 2007
TBA
Friday, January 19, 2007
TBA
Friday, December 15, 2006
TBA
Friday, November 17, 2006
TBA
Friday, October 27, 2006
TBA
Halloween Themed Costume Dance
Friday, September 22, 2006
Gwen Hughes
First dance for incoming freshmen.
Saturday, August 26, 2006
TBA
Yes, it's on a Saturday.
Saturday, July 15, 2006
TBA
Yes, it's on a Saturday.
Friday, June 23, 2006
TBA
Friday, May 26, 2006
TBA
Friday, April 28, 2006
TBA
Friday, March 10, 2006
TBA
Dance held at Agnes Scott (Details)
Friday, February 3, 2006
Atlanta 17
Valentine's Day Theme
Friday, January 13, 2006
Still Swinging
Friday, November 18, 2005
Take Note Big Band
Friday, October 28, 2005
Night Train
Halloween Themed Costume Dance
Friday, September 23, 2005
Peachtree Jazz Edition
Friday, August 26, 2005
Atlanta 17
Friday, July 22, 2005
DJ: Alan White
Friday, June 10, 2005
DJ: David Rothenberg
Lesson: 7-8, Dance: 8-11
Friday, May 20, 2005
DJs: Patrick Manigault & Malon Fripp
Friday, April 22, 2005
Big Peach Swing Band
Friday, March 18, 2005
Peachtree Jazz Edition
Friday, February 25, 2005
Night Train
Baby Doll Competition, Big Apple Taught
Friday, January 14, 2005
Take Note
Friday, November 19, 2004
Atlanta 17
Alternate Location
Friday, October 15, 2004
Night Train
Friday, September 17, 2004
Kickin' DJed Hurricane Dance
Friday, August 20, 2004
Atlanta 17
Big George Savoy Dancer Demo
Friday, July 2, 2004
DJ Bugg
Friday, April 23, 2004
Macon Jazz Band
Friday, March 12, 2004
Atlanta 17
Salsa Workshop
Friday, February 13, 2004
Night Train
Dance Demos
Friday, January 23, 2004
Artie Ball Band
Friday, December 12, 2003
DJ Manu Smith
Dance and Discuss
Friday, November 14, 2003
Modernaires
Joint with Emory
Friday, October 17, 2003
DJ music
Cancelled
Friday, September 19, 2003
Take Note Big Band
Friday, August 22, 2003
Atlanta 17
Lindy and Balboa Workshops
Friday, July 25, 2003
Gwen Hughes
Swing Jam
Friday, June 20, 2003
Night Train
Friday, April 25, 2003
DJ Alan
Free, and almost had it outside 🙂
Friday, March 14, 2003
Take Note Big Band
Workshop
Friday, December 13, 2002
San Francisco's DJ Jesse Miner
Dance and Discuss
Friday, November 15, 2002
Macon Jazz Band
Dance Exhibitions
Friday, October 18, 2002
Atlanta 17
Dance Exhibitions
Friday, September 20, 2002
Caroline & The Ramblers
Dance Exhibitions
Friday, August 23, 2002
Night Train
Dance Exhibitions
Friday, April 5, 2002
Atlanta 17
Dance Exhibitions
Friday, December 14, 2001
Night Train
Friday, November 9, 2001
Night Train
Charlie & Linda Reese
Friday, October 12, 2001
DJs Everett, Kacie, Christopher, & Jim
Friday, September 14, 2001
Cancelled
Cancelled
Friday, August 10, 2001
Take Note Big Band
Exhibition by Paulette and Matt May
Friday, July 6, 2001
DJs David, Malon, Sara, & Stephanie
Friday, June 1, 2001
Sentimental Journey Orchestra
Ballroom exhibition by Birta
Friday, May 11, 2001
The Atlanta Blue Notes
Exhibition by Angie and Roddy
Friday, April 13, 2001
Atlanta 17 Big Band
Exhibition by Erik and Sylvia
Friday, March 2, 2001
Cancelled
Cancelled
Friday, February 9, 2001
The Atlanta Blue Notes
Exhibition by Steve and Carla
Friday, January 12, 2001
Joe Dance Big Band
Exhibition by Evin and Noel
Friday, December 8, 2000
Take Note Big Band
Exhibition by Kenny and Kerry
Friday, November 17, 2000
Sentimental Journey Orchestra
Exhibition by Ravitte and Damon, Groovie Moovie Screening
Friday, October 27, 2000
The Cashmen with DJ Alan White
Exhibition by Julian Mejia, Audience Mixer
Friday, September 29, 2000
Zoots and the Swingin' Suits
Free Lessons by Joel and Melanie: Beginning Lindy (8:00pm) and Learning the Big Apple (10:30pm)
Friday, August 25, 2000
Victory Jazz Orchestra
Exhibitions by SalsAtlanta and Deor Orzame
Friday, July 7, 2000
Chris Chandler with Southern Charm and Swing
Jack and Jill Contest
Friday, June 30, 2000
Joe Dance Big Band
Friday, May 26, 2000
West / Jim Wheatley / David Rothenberg
Battle of the DJs!!!
Friday, April 28, 2000
Dave Bass Ensemble
Friday, March 31, 2000
Victory Jazz Orchestra
Exhibitions by Casino Salsa, Southern Fried Lindy Hoppers, and Steve Bailey and Carla Heiney
Friday, February 11, 2000
League of Decency
Slow Swing Exhibition
Saturday, January 15, 2000
Cigar Store Indians / The Cashmen
Jack and Jill Contest
Friday, December 10, 1999
DJ Alan White (SpinDaddy)
Exhibition by Evin and Noel
Friday, November 19, 1999
Gwen Hughes and the Retro Jazz Kats
Friday, September 24, 1999
Rumbleseat
Friday, August 27, 1999
Rumbleseat
Jack and Jill Contest
Friday, July 30, 1999
Rumbleseat
Friday, May 28, 1999
DJ Charlie Smith